The Hombis are a race of mega-robots from the year 3000. Each one live inside a crater of a volcano, absorbing heat energy to live. They fight everytime, trying to get control over remanents of the Earth after the human collapse (2500). They can transform themselves in very rapid war-vehicles, and they power is directly proportional to the height of their volcano.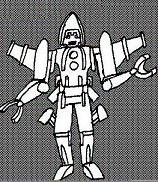 They are named after the name of the volcanoes they dwell. The most powerful is "Ojos del Salado", from Argentina. He is capable to become an earth-drill.
Alliances
The hombis usually make alliances in their war to take the control of Earth. The main alliances are:
Extinct alliance
There has been many other alliances, they all absorbed by major groups. Important old alliances were:
Atacama, absorbed by Nevalta
NorthWest Atacama, , absorbed by Nevalta
Ahagaar: North Africa, absorbed by Pro-Santorini and Ruvenzori.
Selvia: Central America, absorbed by Teas.
Etnacia: Central America, absorbed by Teas.
Circolia: Central America, absorbed by Norata.
Toce: Norternh Andes, absorbed by Nevodo.